What is collective action learning?
Action learning is a collaborative problem-solving process where people with diverse skillsets work together to analyze problems or goals and develop solutions to those challenges. The group continues to meet as actions are implemented, learning from the implementation and making course corrections based on reflection and learning. Action learning processes can help develop leaders, build teams, solve problems and transform institutions and processes.
Guided by AYSRHR priorities, we facilitate action learning processes to generate new and creative solutions for improving youth participation in AYSRHR. The Hub supports action learning groups through cycles made up of the following stages:
Observe: In this initial stage of the action learning process, a small core group of stakeholders will identify a priority area to address collectively.
Assess

: The core action learning group will then analyze the identified problem from different cross-stakeholder perspectives.

Design: Each core action learning group member will develop or co-design an action plan to address the issue from their perspective.
Implement: Action learning group members begin to address issues in real-time according to their respective action plans.
Capture: Group members capture their findings and share with the action learning group for feedback and further analysis.
Repeat: The action learning cycle can be repeated as necessary until the issue is resolved or the goal achieved.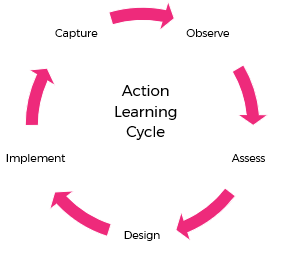 ---
Preconditions for effective action learning include:
Commitment to a spirit of inquiry, honest communication and the group process.
Humility such that members of groups see each other as equals and can establish trusting relationships.
Empowerment such that group members have the autonomy and confidince to act on their decisions.
Only with the agency and power to drive change can group members test the action plans developed and generate knowledge that can benefit the field of AYSRHR.
FAQ about the YIELD Collective Action Learning Hub
What is an action learning statement/problem statement?
A problem statement represents a concise description of an issue to be addressed or a condition to be improved through action learning. It identifies the gap between an issue's current state and the desired outcome or change. By defining a problem statement, members of an action learning group can identify what they want to learn about the problem and what actions they want to take during and after action learning.
---
What does the Hub offer & how does it work?
We offer a unique space and approach for committed stakeholders to collaborate, learn, share, and align on building transformational change in the AYSRHR space. Through participation in action learning processes,stakeholders have the opportunity to engage in real-time applied problem solving, networking, and partnerships alongside people who are also committed to improving AYSRHR.
---
Does the YIELD Hub provide capacity building services?
No. The Hub does not provide direct capacity services. However, the outcome of an action learning cycle may lead to capacity-building activities among action learning group members.
---
Does the YIELD Hub provide grant funding?
No. The Hub does not provide grant funding. However, the outcome of an action learning cycle may lead to external funding opportunities within the broader AYSRHR space.
---
How is the YIELD Collective Action Learning Hub different from a community of practice?
We focus on aligning stakeholders to advance solutions that systematically improve youth engagement and youth partnership in AYSRHR. By facilitating action learning processes, the YIELD Hub will support the generation of new insights and experiences that contribute to improved youth partnership in AYSRHR.
---
Can I participate in an action learning group as an individual?
Action learning groups are designed for institutional representatives. However, individuals who work outside of an institutional role and demonstrably work to change institutional practices are welcome to join. Anyone interested in following the insights resulting from the action learning groups can sign up for our newsletter and follow us on social media.
---
Do action learning group members need to commit to public accountability?
Public commitment is not a prerequisite to participating in the c action learning groups. However, our core group members strive to publicly commit to implementing the output of the action learning design phase and capturing their results for the action learning group and the broader field.