Adolescence and youth are undoubtedly critical periods for sexual and reproductive health. Young people encounter distinct challenges and vulnerabilities associated with sexuality, identity, and relationships which can significantly impact their long-term health and well-being.
In July 2023, at the Women Deliver Conference in Kigali, we partnered with Metrics for Management (M4M) to help them facilitate an Action Learning Workshop for their Measuring Youth Sexual and Reproductive Health (MY SRH) Initiative. We worked with their Youth Advisory Group (YAG) to explore ways to improve measurement practices in Adolescent and Youth Sexual and Reproductive Health (AYSRH) services. As part of our Communications support for the Initiative, we produced this blog to help M4M capture the purpose and outcomes of the workshop.
The Global Issue of Inadequate Access to Quality SRH Services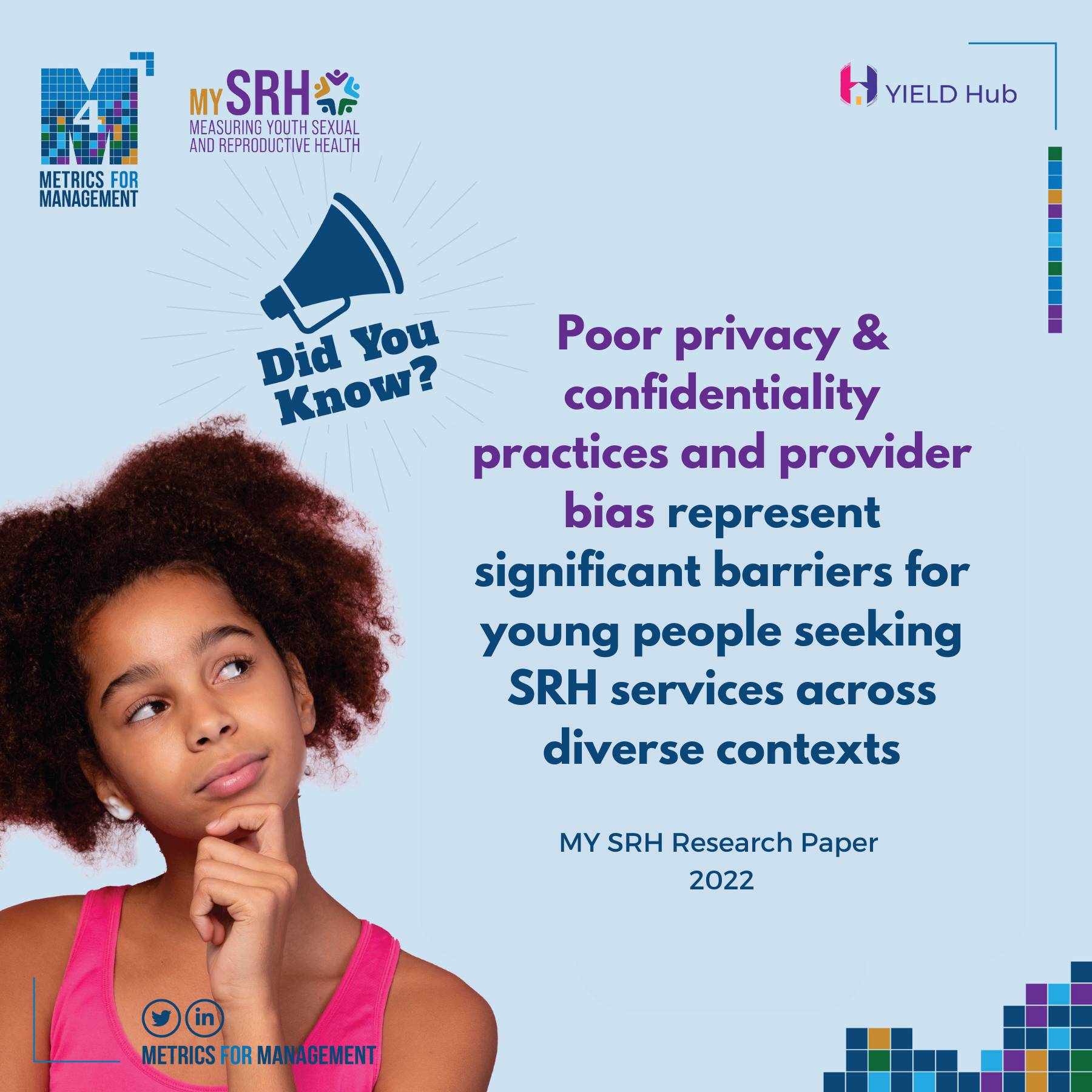 The lack of access to quality sexual and reproductive health (SRH) services for adolescents and youth is a pressing issue. Despite the importance of comprehensive and evidence-based services, many young people still struggle to find the care they need.
Our recently published research review [Exploring and Monitoring Privacy, Confidentiality, and Provider Bias in Sexual and Reproductive Health Service Provision to Young People] reveals that this is especially true in low- and middle-income countries, where poverty, cultural norms, and social stigma can create significant obstacles. Inadequate privacy and confidentiality practices, as well as significant provider bias, have severe and long-lasting consequences.
Young people may feel ashamed or stigmatized when seeking services and may receive incorrect, incomplete, or no counseling when seeking information about their sexual and reproductive health (SRH) options. Providers may limit the types of SRH services that youth can receive, and a perceived lack of quality care may discourage future care-seeking. Key populations, such as members of the LGBTQ community, migrants, and religious minorities, may also face threats to their physical and emotional safety.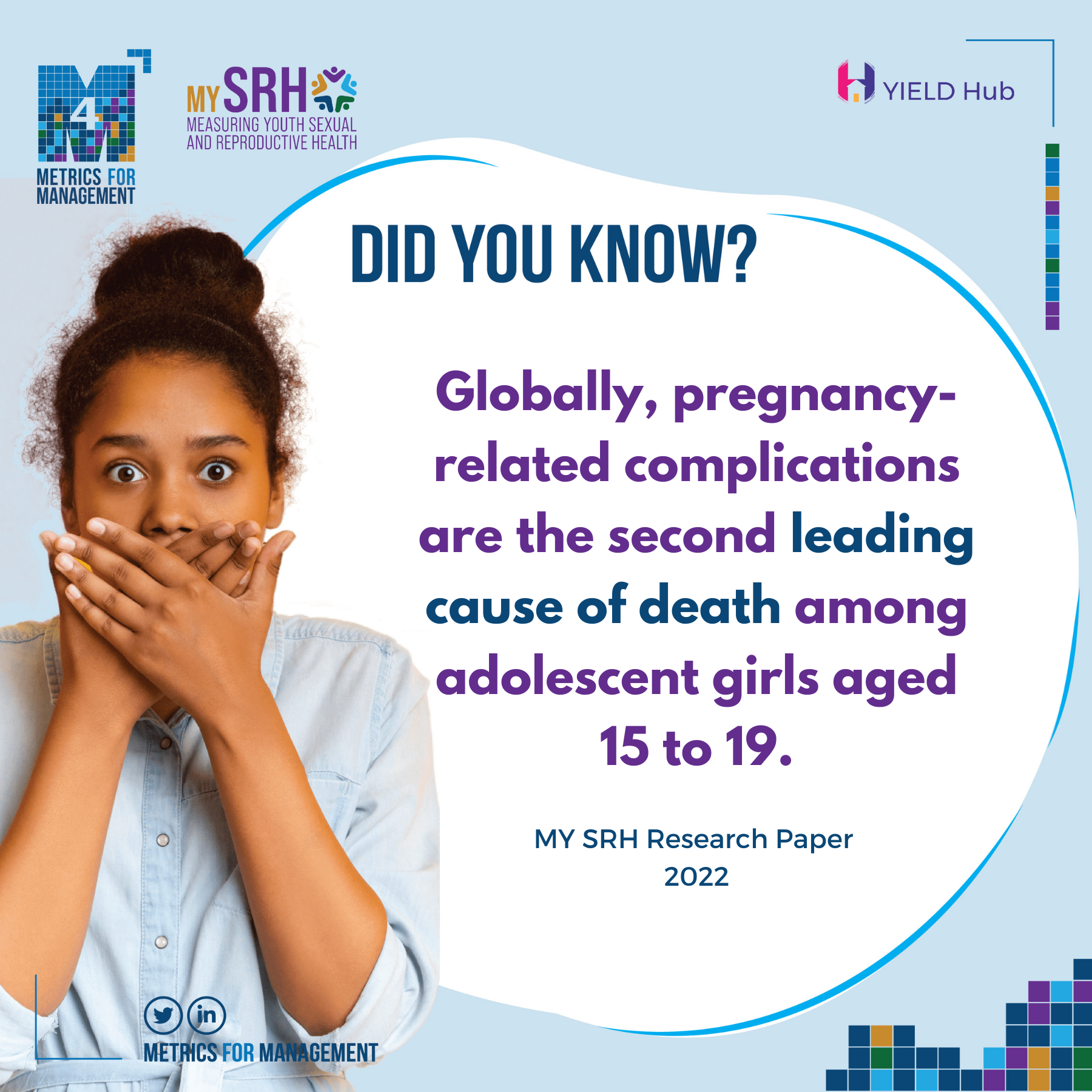 Furthermore, poor access to quality SRH services can have serious consequences, such as unwanted pregnancy, unsafe abortion, sexually transmitted infections (STIs), and sexual violence and coercion. Lack of access can also lead to increased maternal morbidity and mortality rates, early childbirth, and social stigma. Providing quality SRH services and education, social support, and access to essential medicines is crucial to comprehensively addressing these issues. Given the many challenges that young people face globally, steps must be taken to improve access and quality of SRH services.
The Measuring Youth Sexual & Reproductive Health Services Initiative
Our research review discovered that current assessment methods used to measure youth SRH services are lengthy and challenging to implement and neglect to include youth voices in defining which aspects of care matter most. To address this need for improved measurement practices, we established the Measuring Youth Sexual and Reproductive Health (MY SRH) Initiative. The MY SRH Initiative uses M4M's rigorous 7-step development process to identify the measurement problem, pilot improved measurement options, select among them, standardize the measurement process, develop tools which are easy to access and implement, refine the measure over time, and scale metrics for widespread use to measure the quality of adolescent and youth sexual & reproductive health services.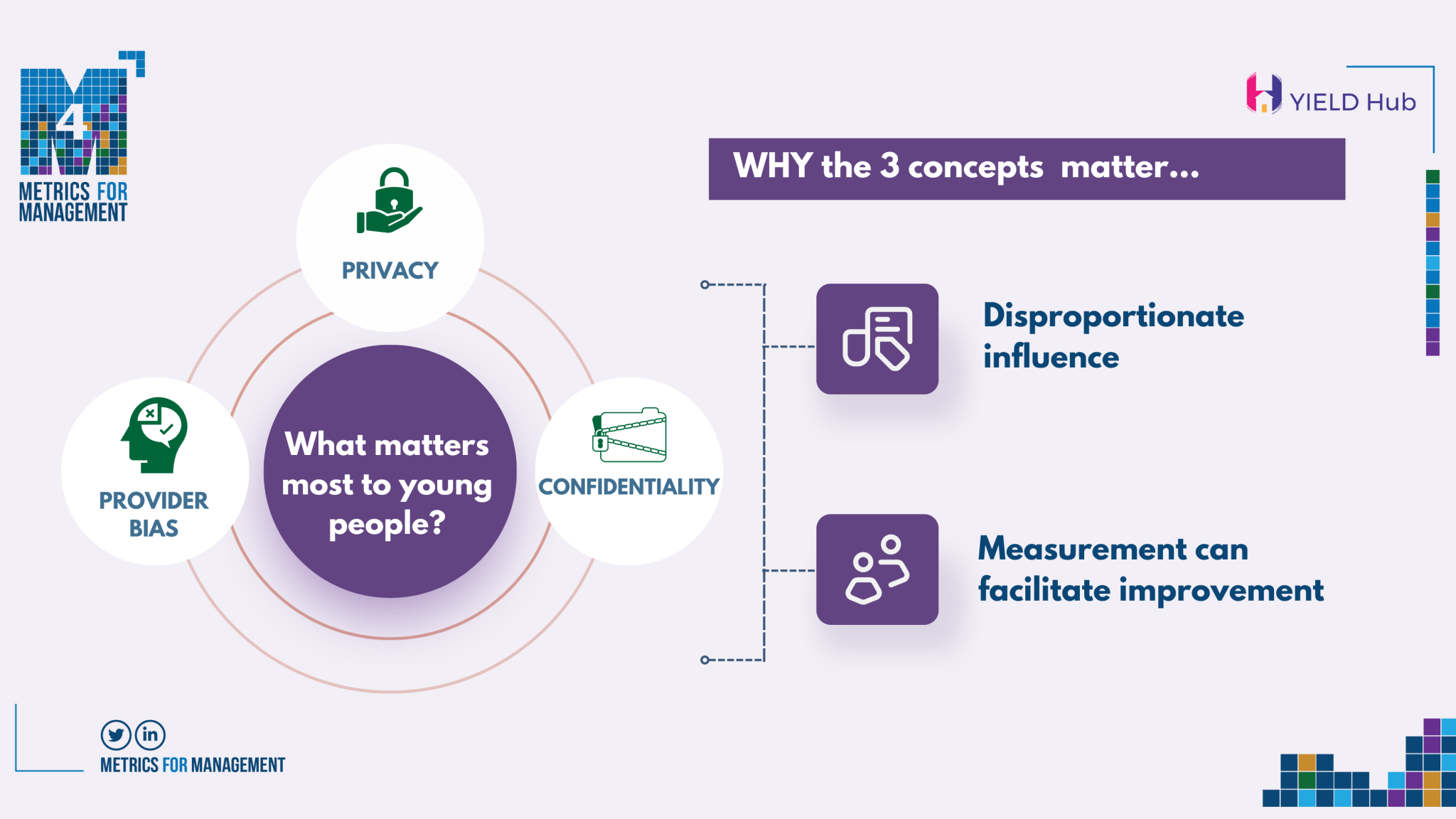 This initiative has been designed with three key concepts in mind: privacy, confidentiality, and provider bias, all of which disproportionately influence whether adolescents and youth receive the care they need and their perceptions on the quality of that care. By focusing on these critical areas, the MY SRH Initiative aims to not only measure the aspects of care that matter most to young people but to do so by developing an easy-to-use measurement approach that can provide program managers, clinicians, and other frontline health staff actionable information that can facilitate quality improvement initiatives.
Our Global Youth Advisors Redefine Quality Care Provided through SRH Services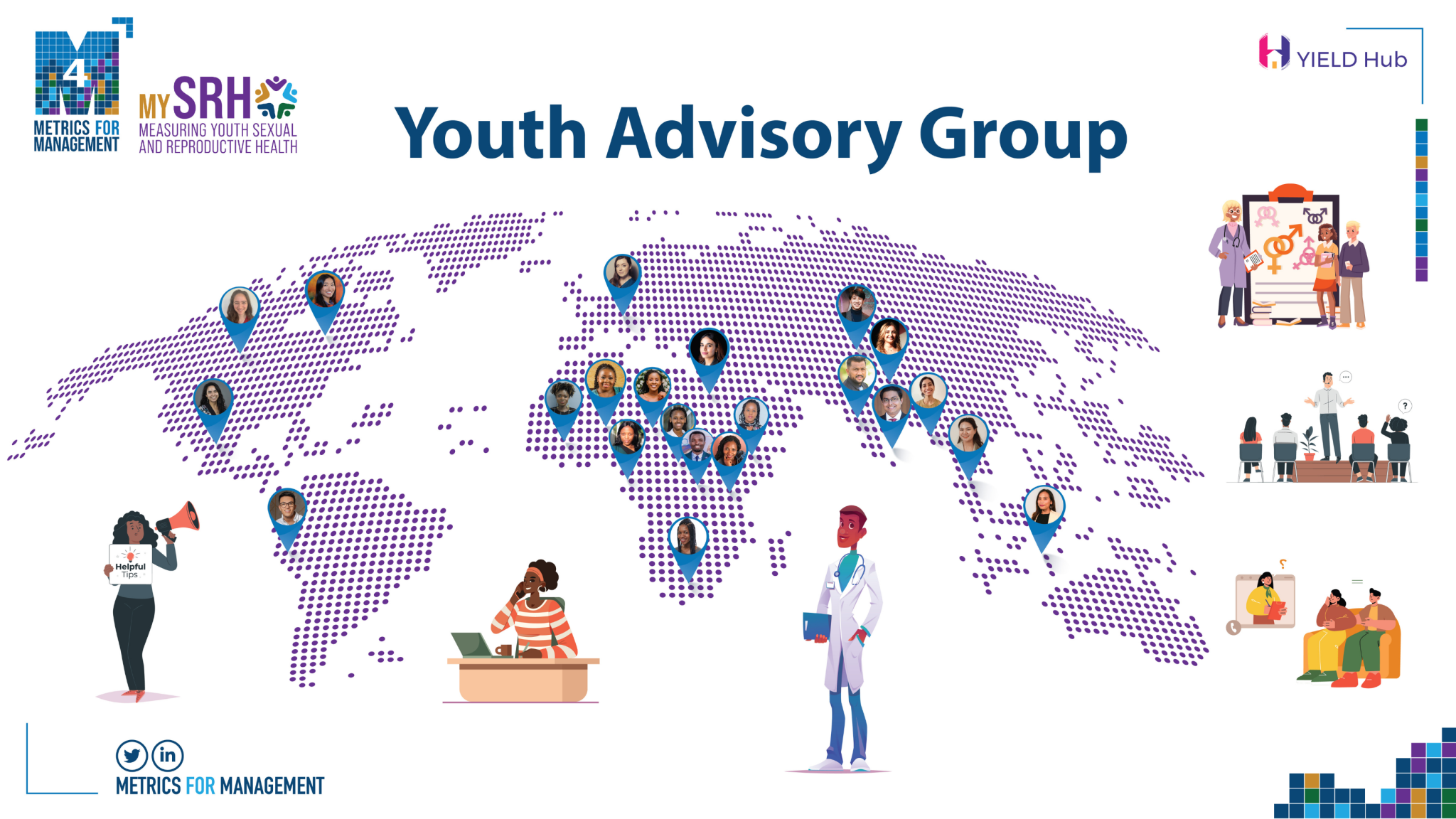 A critical component of the MY SRH Initiative is the Youth Advisory Group (YAG), comprised of young clinicians and SRH and human rights leaders, advocates and experts. The YAG held its first meeting at the Women Deliver Conference 2023, a global conference that seeks to "advance gender equality and sexual and reproductive health and rights (SRHR), and improve the wellbeing of girls and women." With the help of the YIELD Hub team and their Collective Action Learning process that prioritizes youth partnership in Adolescent and Youth SRH rights, the YAG meeting began by identifying the measurement problem and further defining the concepts of privacy, confidentiality, and provider bias:
Privacy applies to all service channels, including physical and digital records, and auditory and visual privacy.
Confidentiality requires well-designed policies and workflows to ensure that young people's private health information is not disclosed without their consent.
Provider bias, including discrimination, stigma, and lack of knowledge, can limit access to quality SRH services. High levels of bias can lead to poor quality of care, denial of services, and reduced access to care.
YAG members highlighted the importance of designing policies and practices that promote privacy and confidentiality. It also emphasized the need for ongoing training for healthcare providers to address provider bias and ensure that all young people have access to the care and information necessary to make informed decisions regarding their sexual and reproductive health. We recognize that to achieve this, we must empower young advocates to take a leading role in our efforts.
Finally, the YAG prioritized the key adolescent and youth SRH services in which to measure these concepts. Concentrating on the service areas that are most important to youth can help us enhance the quality of services more meaningfully.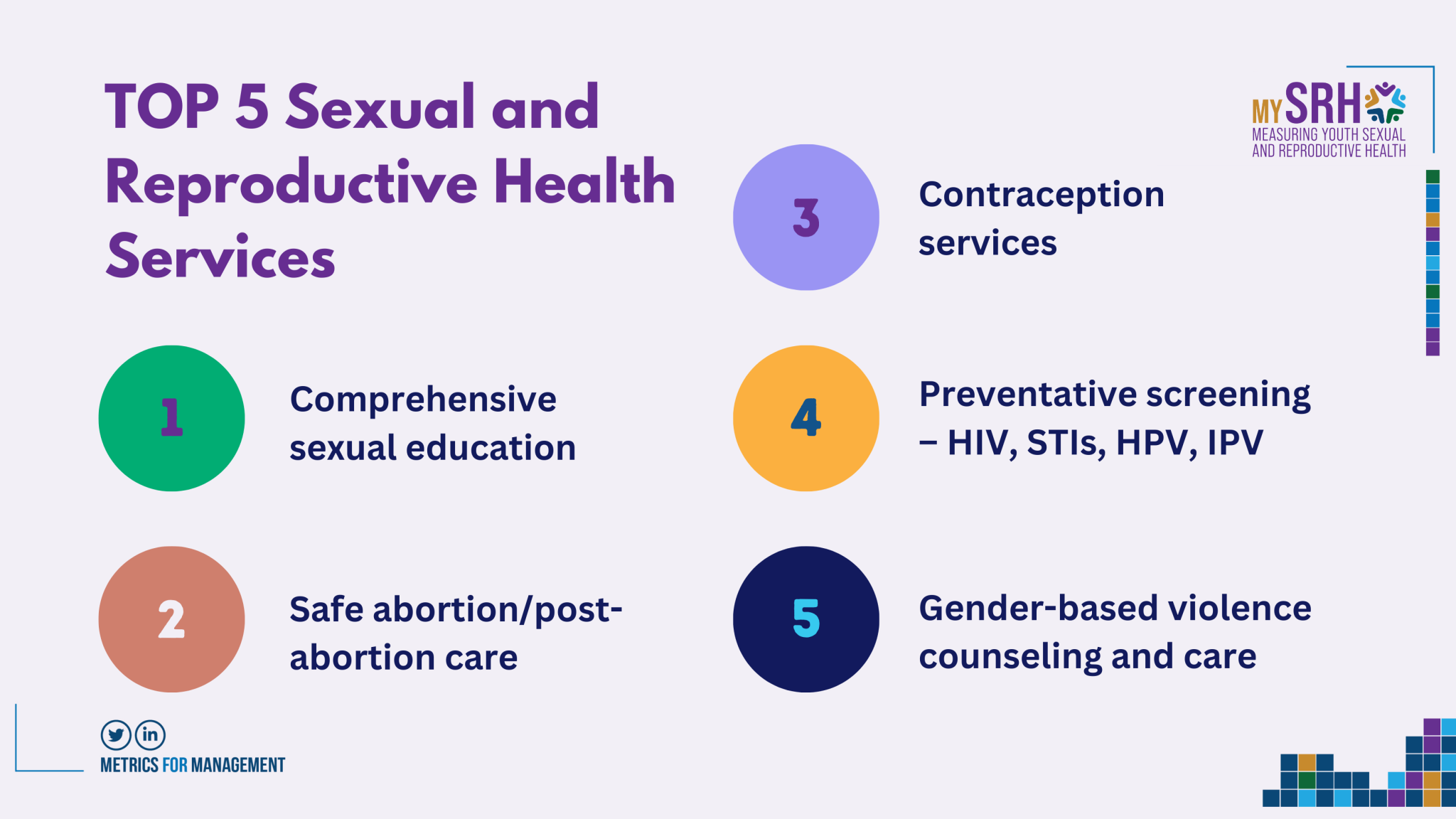 Youth Advisory Group members are key to charting the future course of the MY SRH Initiative. The Initiative is an innovative effort designed to develop youth-informed, easy-to-use measure, adolescent and youth SRH services whose use can facilitate quality improvement, enhance social support and education, encourage care-seeking, and produce better health outcomes for adolescents and youth.