Having launched only a few months ago, you can only imagine how excited we were for #ICFP2022. Key messages in tow, we were eager to consolidate our place in the Adolescent and Youth Sexual and Reproductive Health and Rights (SRHR) space at this year's biggest family planning conference. Ready to get our message out to the masses, we had planned some exciting events alongside our partners, Engender Health, Save the Children International, We Trust You(th), ATHENA Network, and PMNCH. Our gospel truth? That making #YouthPartnership the norm in AYSRHR is how we can shift the youth ecosystem from one that is for youth, to one that is with the youth.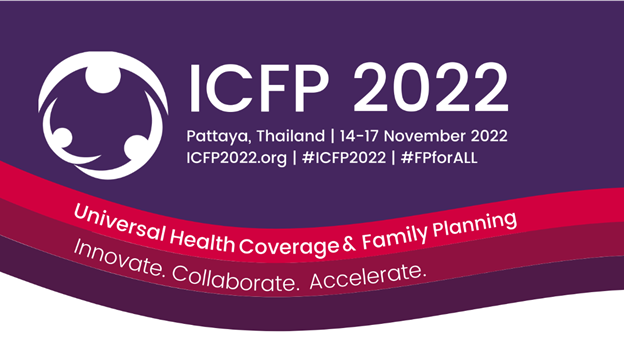 The Youth Pre-Conference in particular, emphasized the fact that young people are quite the repository of SRHR knowledge and experiences. Even more reason why they are perfectly equipped to take charge of their own sexual and reproductive health. While the ICFP provided us with an opportunity to expand our networks for future action learning cycles, we found the opportunities for learning from our peers even more beneficial. During the sessions we co-hosted alongside our partners, we convened young people from around the world to share lived experiences, challenges, perspectives, ambitions, and aspirations about their well-being and empowerment, particularly around SRHR.
Fun fact, we even had a chance to direct our asks to decision-makers. "Policymakers should ask their constituents what young people want, work across sectors including areas other than health and adopt a comprehensive approach to adolescent well-being," said David Imbago, the YIELD Hub manager and Chair of the Adolescents and Youth Constituency at PMNCH during the Lunch with Leaders Intergenerational Dialogue session.
With major themes centred around access to comprehensive sexuality education, safe abortions and affordable SRH services, our joint session with PMNCH was no doubt incredibly collaborative. The sessions participants lent a much-needed hand towards shaping the SRHR agenda ahead of the 2023 Global Forum for Adolescents. In addition, our short stints at the Rutgers, PMNCH & Engender Health booths were the perfect fuse of work and play. We got to meet incredible people from all over world and introduced them to the new initiative that is the YIELD Hub. Such fun!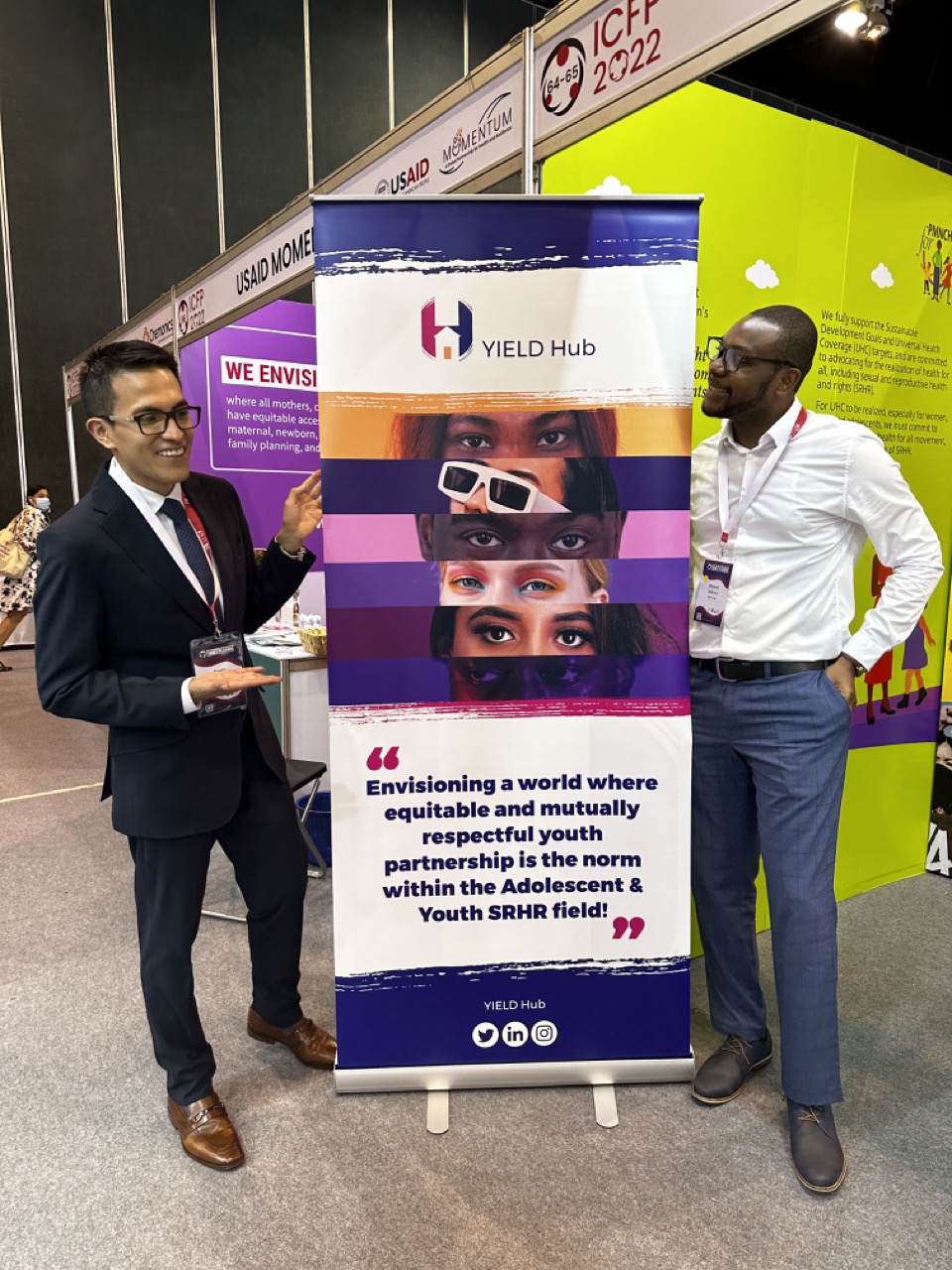 During ICFP, we got the opportunity to collaborate with Save the Children on the side event "The Power of Partnership to Drive Equity in Sexual and Reproductive health and Rights," where we highlighted the meaningful role of young people in the field and how the collaborative action learning model of the YIELD Hub can bring stakeholders together for a common goal.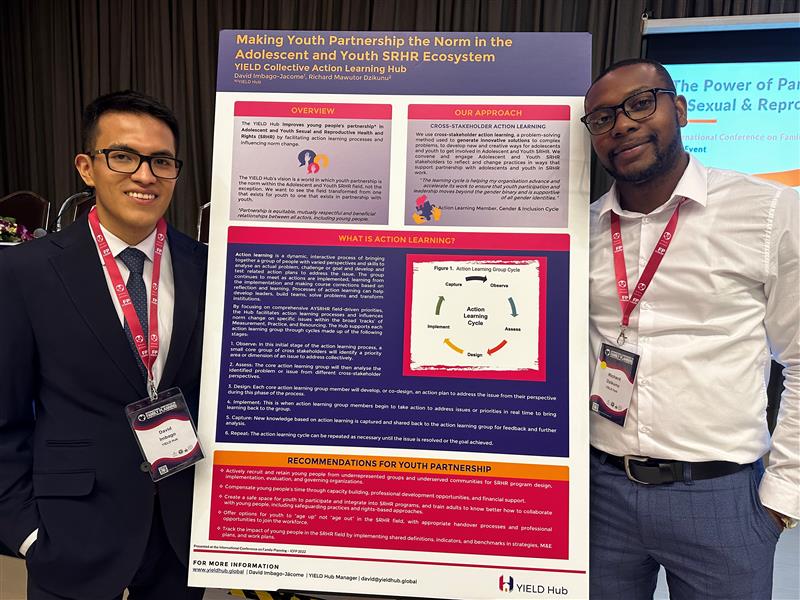 Nevertheless, the biggest highlight for us at ICFP was our Live Stage Session where we got to demonstrate why cross-stakeholder engagement to improve youth partnerships in AYSRHR is crucial and can be facilitated through action learning processes. We also presented outcomes from our first Action Learning Cycle.
Aside from the positive feedback on our action learning model, our biggest takeaway from ICFP was that we simply cannot improve the SRHR field without young people. Using cross-stakeholder action learning to address key SRHR issues that affect adolescents and youth; access to quality, affordable family planning among them is one of the ways in which we can make sure that young people are at the core of SRHR interventions.
Post ICFP, we remain even more committed towards shifting the status quo on meaningful youth engagement in Adolescent and Youth SRHR. Here's to making youth partnership the norm in adolescent and youth sexual and reproductive health!
Watch our ICFP Live Stage Session here: