Vision and Mission
Vision
The YIELD Hub's vision is a world in which youth partnership is the norm within the AYSRHR field, not the exception. We want to see the field transformed from one that exists for youth to one that exists in partnership with youth.
Mission
The YIELD Hub's mission is to improve youth partnership in the AYSRHR space. By engaging and convening stakeholders through action learning groups, we develop creative, youth-centered solutions designed to transform the field of AYSRHR.
Value Proposition
The YIELD Hub is a field-building cross-stakeholder action learning initiative toward systematically integrating young people's partnership as a norm in AYSRHR.
We convene multigenerational stakeholders, whose roles in AYSRHR are as funders, advocates, researchers, implementers, and evaluators to co-define priorities and seek solutions to collectively advance youth partnership in the field.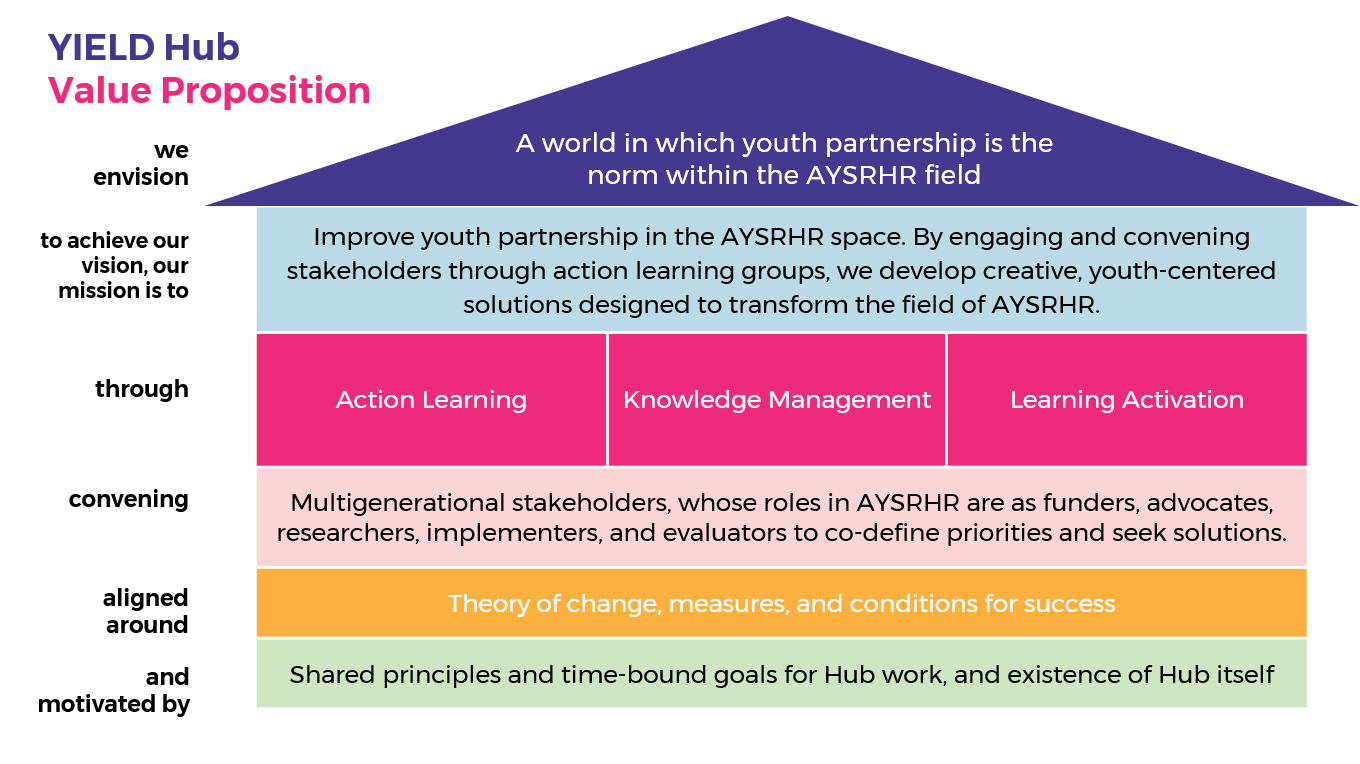 Problem Statement
Young people want and deserve the power to make decisions about their bodies, lives, and futures. It is both their right and their responsibility. But making this a reality requires youth partnership at every level of AYSRHR decision-making and implementation—such that young people are engaged as partners and leaders in all efforts.
The effective engagement of young people is beneficial not only to young people, but also to the adults who work with them, the institutions they serve and lead, the initiatives they spearhead, and the outcomes they seek. Partnering with young people improves the quality and responsiveness of AYSRHR efforts.
The Hub will address the following problems:
Youth partnership has not been systematically, consistently, or rigorously adopted and integrated into AYSRHR efforts. Current institutional models are often bureaucratic and complex, and even, in some cases, hostile or tokenistic toward genuine meaningful youth engagement.
There is a lack of cross-stakeholder alignment, coordination, and shared learning to improve youth partnership in AYSRHR.
Solutions have been proposed, including some that are large-scale and have been demonstrated to be effective, however, they are not systematically adopted by organizations, and lack resources for implementation.
Objectives
To facilitate collective action learning to create solutions, strategies, and best practices that will systematically integrate youth partnership across the AYSRHR ecosystem.
To serve as the go-to platform for global cross-stakeholder alignment, coordination, and collaboration on youth partnership in the AYSRHR ecosystem.
To promote youth partnership within the Hub's spheres of influence, as well as advocate broadly within the AYSRHR field and broader development stakeholders.
Functions
Action Learning
We convene people with diverse perspectives and skillsets to develop youth-centric solutions to AYSRHR priorities. We are dedicated to facilitating action learning processes that are dynamic, collaborative, and productive, so we work closely with other youth networks and initiatives to maximize efforts and avoid duplication.
Knowledge Management
We package and disseminate the knowledge generated from our action learning processes so that the AYSRHR field can take informed steps to improve youth partnership.
Learning Activation
We equip stakeholders with the tools to use this knowledge to improve youth partnership in AYSRHR efficiently and effectively.